A year of Transfiguration films in the world!
Author: admin
Date: January 31st 2023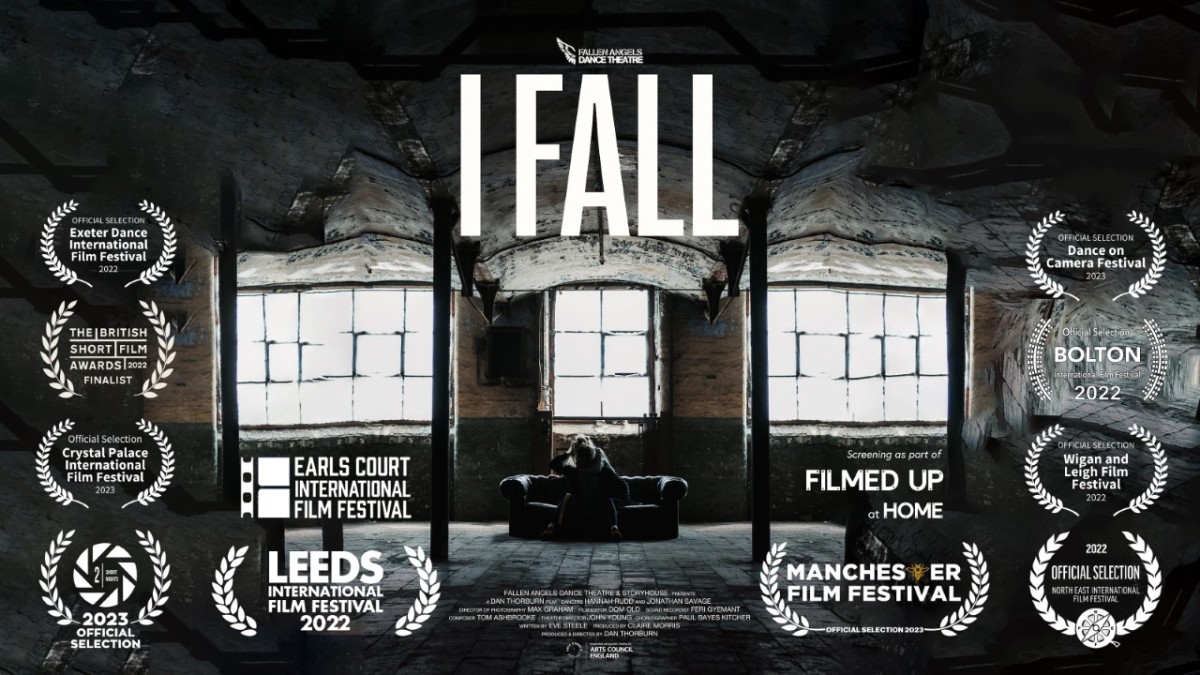 On 20 January 2022 we held our breath and launched Transfiguration: I Fall on Storyhouse (storyhouse.com) website.
The creative team had worked through blood, sweat and tears throughout the previous year to devise, film and edit 3 remarkable and powerful films that we were super proud of.
Before launching into the world, you never really know how your audience will receive the films, and if whether we would meet our goal to reach out further with FADT's most ambitious creative project to date.
Looking back on the last year and our achievements we are absolutely thrilled that we did achieve our goals and had some unexpected moments too.
Here is a roundup of the highlights:
Over 7000 film views through FADT website and through touring to 11 Film festivals.
Reaching beyond FADT recovery community in local, national and international audiences as far as India, Thailand and the USA.
Award-winning: I Fall won Best Dance Film Award at the International World Film Award and was a Semi-Finalist at the London Web and Short Film Festival.
Through our 15 engagement activities the film and the team reach out to:
Homeless community

Young people

DrugFAM volunteers

University Students

Professional dance artists

Volunteers

Addiction/Recovery professionals
Feedback from our audiences:
"Definitely the most powerful/memorable and intimate film I've ever seen on this subject! Well done to all of your team, amazing work. "
"Wow gripping! Thank you so much for sharing the stories through your art and this film! Powerful and moving and incredibly intricate and raw movement! Laced with emotion and pain but hopeful for change! Loved watching every minute of it!"

"Amazed by the emotional assault and intricacy of this work – thank you."

"This was a really powerful film; I was tearful at the end and that's not normally me. It helped me understand the journey and some of the challenges of addiction."

As our participants are at the core of our mission, it was essential for us to create opportunities for our Angels to experience the making of dance films including: devising, performing, being an extra, observing creative professionals from writers, actors, film director & crew, locations, and resources required to make all of this happen.
"amazing so stunning hits hard, I was so honoured to have witnessed this getting made and I was blown away by the script, production and music, wow."
We continued through the year to present the film at events within the recovery communities across the North-West and in London.
FADT Transfiguration films will stay live on our website to view free of charge, you can view behind the scenes footage on our website & Youtube channel ( and don't forget our exclusive live stream event "When Art is your Story"
At DrugFAM "I Need" with its powerful themes of the Mother and Son relationship continues to be a resource for their volunteer induction, to help others understand the dilemma and challenges of the "affected others" families/partners of those in or recovering from addiction.
If you are interested in a workshop and sharing of the films with the team, please do contact Fallen Angels Dance Theatre.
And Finally … Thank you so much to the creative team led by Fallen Angels Dance Theatre's artistic director Paul Bayes Kitcher
Film Director & Producer : Dan Thorburn
Theatre Directors : John Young and Kate Flatt
Artists: Eve Steele, Hannah Rudd, Jonathan Savage, Dominic Coffey, James Henson, Tom Denbigh, Rachel Pennington and Angel extras