Angel Jayne talks about Recovery in Motion
Author: admin
Date: October 26th 2022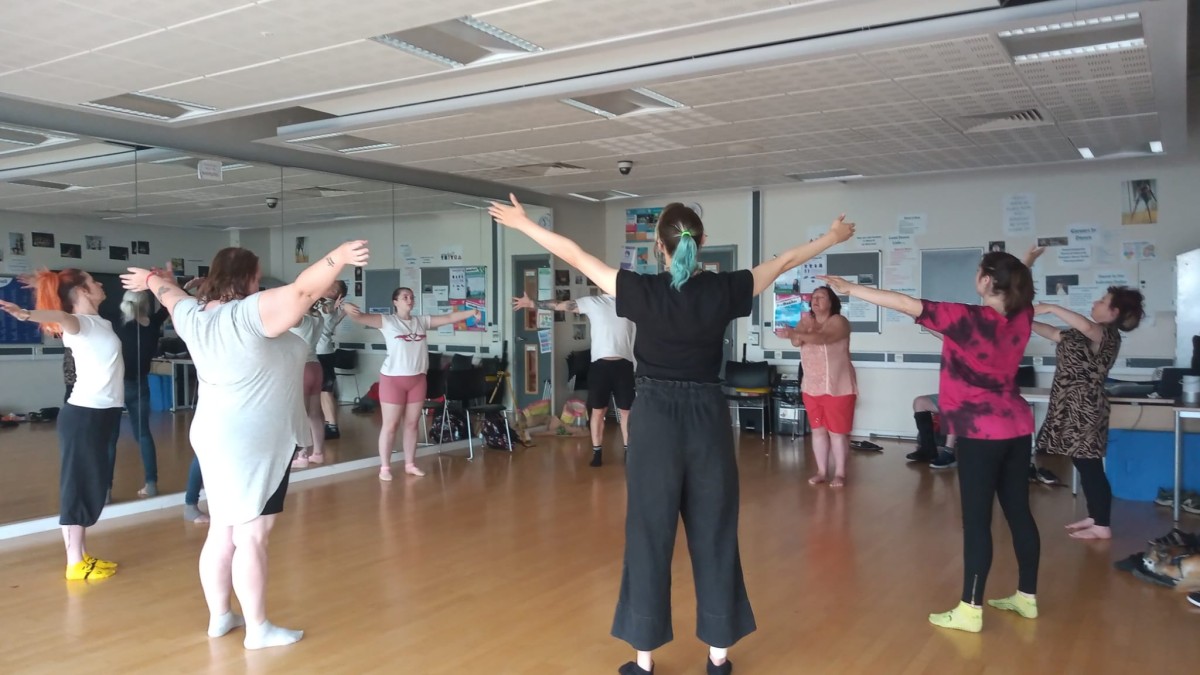 Jayne has been connected to Fallen Angels Dance Theatre for some time, but only this year did she take part in one of our projects – Recovery in Motion.
How did you come to hear about Fallen Angels Dance Theatre – and what has your relationship been with them so far?
I became aware of Fallen Angels in 2013, when I was in early recovery and getting involved with Greater Manchester Recovery Federation as we planned for the UK Recovery Walk to come to Greater Manchester in 2014.
Since then, I've seen them at various events including a SUAB conference at Manchester Metropolitan University, a couple of LUFstock recovery campouts, and at The Lowry.
I absolutely love what everyone does, and clearly gets out of it… but have never had the bottle to join in until now. I think Fallen Angels are an awesome organisation.
2. Why do you think the work they do is so important?
I love creative writing, but we're not all comfortable with spoken or written word, with high levels of dyslexia and people who've been failed in childhood by a mix of chaotic parenting, failure to understand/work with/diagnose in the education system, so have never developed confidence around the "assumed normal" way of expression.
I do a lot of art which has helped me, and I know that visual imagery is a powerful way to express what we feel, but it doesn't have to become 2D and permanent. It can be vital, experiential, and transitory just like our feelings.

3. As this is your first time getting involved with a FADT workshop, why did you want to take part in Recovery in Motion?
Yes, it's my first time. I wanted to join in before but felt too awkward. I've always shuddered when I catch a glimpse of myself in shop windows. I have "worthless" schemas I'm working hard to overcome, so the idea of showing my body in all its glory, in movement, felt very scary indeed!
Our bodies can speak in a different way and feel everything. I didn't respect or love my body before addiction took hold, I certainly didn't in the thick of it, and as I came out of using substances gained 5 stone, using food in the same addictive way.
I'm becoming more body-sensitive and aware lost most of the 5 stone, been vegan for years (reconnecting with old values) so am hoping that through this project I can develop a new confidence and a drive to look after myself better, more holistically.
4. What do you hope you'll get out of taking part in Recovery in Motion?
I know I will feel a deep connection and fierce sense of the group. I expect to feel intense emotions and that frightens me a bit, but I really want to embrace them and where they take me. What I really hope is for an internal shift and a new drive to nurture the body which carries my spirit through life so dutifully and with little thanks. I'd like to leave the project fitter and more active, bolder and energised.