City dancers spread their wings in celebration 
Author: admin
Date: December 1st 2022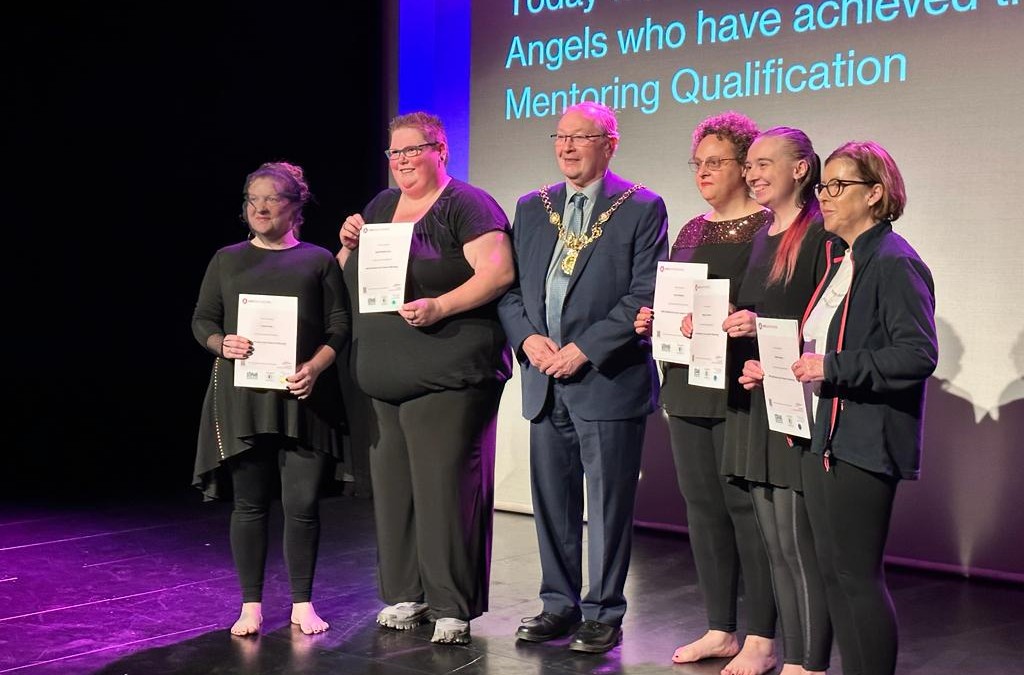 Dancers from a Chester-based recovery charity have qualified as peer mentors, thanks to funding from the National Lottery Community Fund and the Chester Bluecoat Charity.
The dancers, from Fallen Angels Dance Theatre, received their Level 2 mentor certificates from the Lord Mayor of Chester John Leather at a celebration at Storyhouse this week.
The qualification is part of a three-year pioneering project entitled Spreading Wings, for people in recovery from addiction, those experiencing an episode of mental health crisis or others battling a long term mental health condition.
Colette Jones described how the mentor course had taught her to become a more active listener.   She said:
"I love nothing more than watching other people succeed.  A supporting angel wraps their arms around another angel and takes them on a journey." 
Clare Roberts added: "Following the pandemic I think more people understand mental health adversity. Sometimes when we come together with Fallen Angels we can feel broken, yet we can leave uplifted. We deal with such different layers of emotion through dance."
The celebration event was also an opportunity for the dancers to share their latest work, developing themes around the legend of Doctor Faustus. Fallen Angels' artistic director Paul Bayes Kitcher will choreograph FAUSTUS: That Damned Woman, written by Chris Bush and directed by Francesca Goodridge, at Storyhouse in February 2023.
Paul, himself in recovery from addiction, uses the creative work developed in workshops with Fallen Angels to inform his choreography.
He said: "We have been looking at some of the themes in Faustus like war, death, famine and pestilence. The story has many parallels to an addict's experience – the war within our own selves, the mental and physical illness and the trauma.
"When I work with the Angels they can release that trauma into a safe space."
Fallen Angels Dance Theatre is company-in-residence at Storyhouse. The Moving Monday workshop, from 12-2pm, is a focused movement session and Wellbeing Wednesday, from 11am-12.30pm, is a chance to check in and explore different aspects of wellbeing and mindfulness within a small group. For more information contact jude@fallenangelsdt.org