Day Three: Joanna, Fallen Angels Dance Theatre Recovery Artist.
Author: admin
Date: September 13th 2018
A Guest Blog from Joanna Kirkby
I joined Fallen Angels Dance Theatre a year and a half ago after coming out of detox for drug and alcohol addiction.
I had little idea of what to expect as I had never really danced before and didn't even know what contemporary dance was, but I absolutely loved learning to move in a completely new way that involved expressing myself, and the way that I felt through movement.
I found that through dance I was able to get completely lost in the moment and enter a state of flow which after each session left me with a feeling of calm and serenity. This felt incredible, especially as it was such a stark contrast to the chaos, pain and turmoil I had felt during active addiction.
I took part in my first performance last February in 'The Dark Night Ends' which was one of the best experiences of my life, so after being a part of that I couldn't wait to perform again so I was really excited when Paul asked me to be a part of this project as a recovery artist.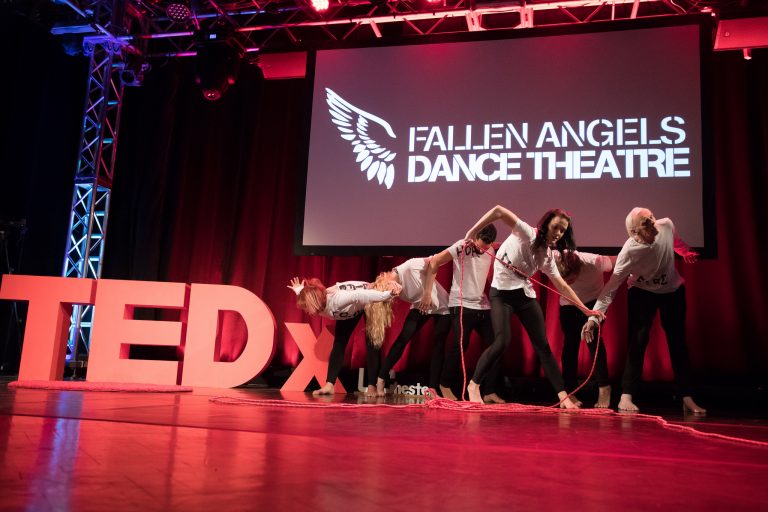 I've had a great couple of days so far in Birmingham dancing with Geese Theatre Company (Staging Recovery) and Rory and Laura from the Birmingham Royal Ballet, it's been amazing to watch people stepping out of their comfort zone, losing their self-consciousness and being able to freely express themselves. Some of the movement has been so beautiful it's completely blown me away.
It's also lovely to see people enjoying dance and getting a taste of the therapeutic value of dance that I experience myself. I've especially enjoyed watching Laura dance as it's like she just floats too and from the ground, it's incredible seeing her bring elements of ballet into contemporary dance.
I can't wait to see what is created over the next few days when all the performers and different styles of dance are brought together and I'm hoping the performance will bring something new, unique and authentic by combining dance with people's real-life struggles to create something beautiful, deep and thought-provoking.