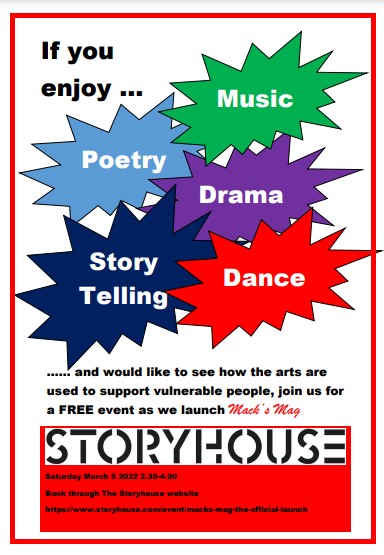 Venue : Storyhouse, Chester
Date : March 5th 2022, 2:30PM - 4:00PM
Our Angels from Chester will be performing at this event.
This event is inspired by the achievements of Trevor McCormack (1973-2020). Mack wrote poetry to confront his thoughts and fears and in 2019 he published his short anthology of poetry, Looking Back.
Mack then hoped to establish a magazine which could offer a voice to others, before going on to publish more of his own work. Sadly, Mack's death meant he achieved neither, so this event launches the magazine that is his legacy. There will be music, poetry, story-telling, drama and dance as we celebrate the work of organisations that support vulnerable individuals.
The event will culminate in the launch of an online version of the magazine. Paper copies of Mack's Mag are available at The Share Shop in Chester.