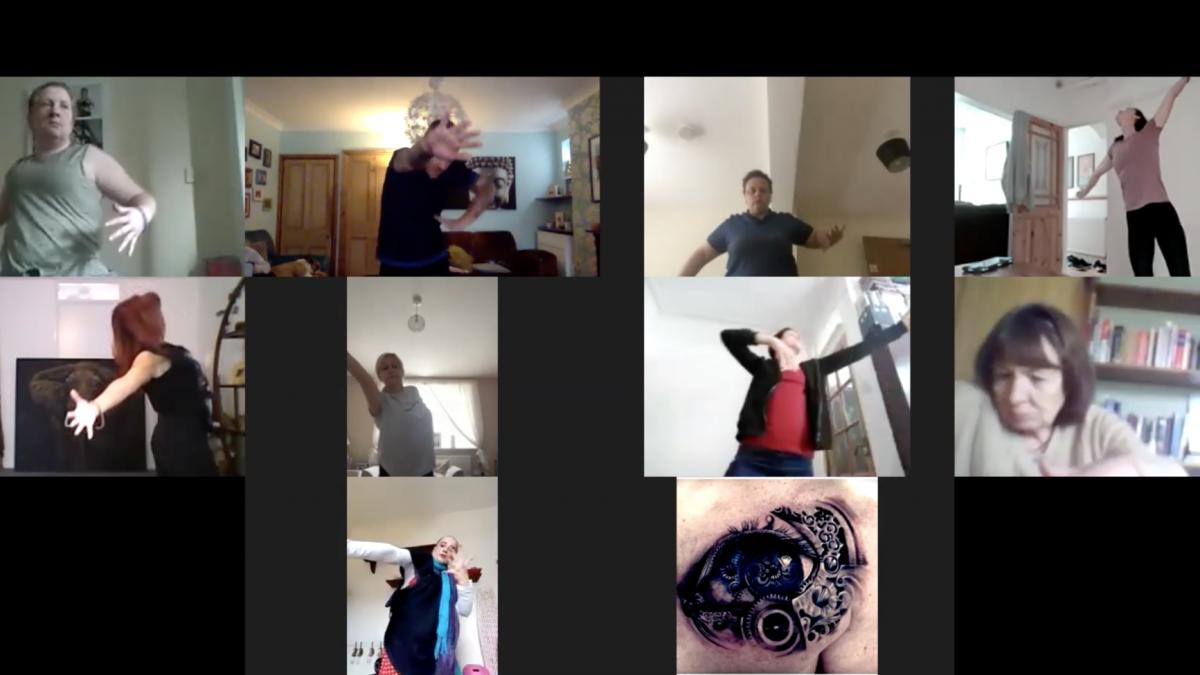 When the lockdown started, I was at the peak of my fitness. I was about to go to represent myself and Fallen Angels Dance Theatre in the show 'Move-It'. I was about to board a train, then half an hour before I found out that the show was cancelled because of the pandemic… I had bought my tickets, I was fit, trained, ready and clean.
So, I had got to a stage where I was really fit and clean and then the pandemic happened. I couldn't go to the gym. I couldn't go and socialise… From being in three shows I had been looking forward to… it was all taken away."
Every time throughout my life when I have kinda got there… something has happened; someone dies, I break my foot, I wasn't chosen for the cut, I f**k it up or I am just not there… This time it was the pandemic… I felt a bit lost… I have used Fallen Angels as an absolute crutch, a pillar of strength, this time I have been able to get involved with 'Together While Apart'.
'Together While Apart' has completely helped me… with my focus, my self-discovery… I have managed to carry on with my counselling sessions which I was going to cancel… I realised that if I am not going to do this, then I am never going to get on top of this ever. I am going to carry on going through life f**ing up, so now is the best time.
Believe in what you are doing, I believe in Fallen Angels, believe in yourself and keep working with yourself… I am able to be comfortable with telling people what's been going on, with certain aspects of my life… no fear of judgment, being rejected, hated… Not being judged because of the shame and paranoia of what's going on…
Fallen Angels have been a pillar of strength, it has got me moving, it's got my blood moving around my body; your heart rate raises. It is a form of fitness. It is a form of artistic expression. It is a form of waking up and stretching. Waking up and being aware of yourself. It's basically a form of self-monitoring. Almost a form of cognitive behaviour therapy (CBT) or your own neuro-linguistic programming (ILP)… using body tapping and self-affirmation and believing in yourself.
If I was to go anywhere else with this, through this (the pandemic), I would probably put that phone down on my counsellor. I would have cut myself off from the group… and the world. I would be right down there. I would probably have lost everything; my relationship with D… I could see it happening. Lost my job… no contact my family, being a s**t friend to everyone, even with my extended family at Fallen Angels … and dancers in Liverpool.
What Fallen Angels has done for me; it has given me the freedom to express myself creatively and has helped me through my self-discovery by being online and by getting involved and by feeling inclusive… I have never been as open as I have been at Fallen Angels… I have not been excluded which happens so much in this day and age. We are all fighting so much in our tribes… with our own labels… Fallen Angels have given us the freedom to express ourselves creatively, authentically and honestly… and have a safe space…
This is not just about me and my journey. This is about friends, friendship, family and helping each other. Getting involved in things I wouldn't normally have done if I had not been involved with Fallen Angels. I have made some really good friends and I am reaching out to some of the people in the group. It's given me a chance… and platform to showcase myself and do all the lovely things for you (FADT).
So, in a nutshell: I am mostly grateful for the online Zoom meetings and check-ins… The ability to know that I am able to come on board and say, 'Hi Guys! Yes, this is me! And this is you; we are a big family and we're here to help each other'… in our own dysfunctional way, which is wonderful… Fallen Angels bring everyone together, which is a wonderful gift. Thank you.