Meet Tamara – Traces Through Time Dancer
Author: admin
Date: October 24th 2023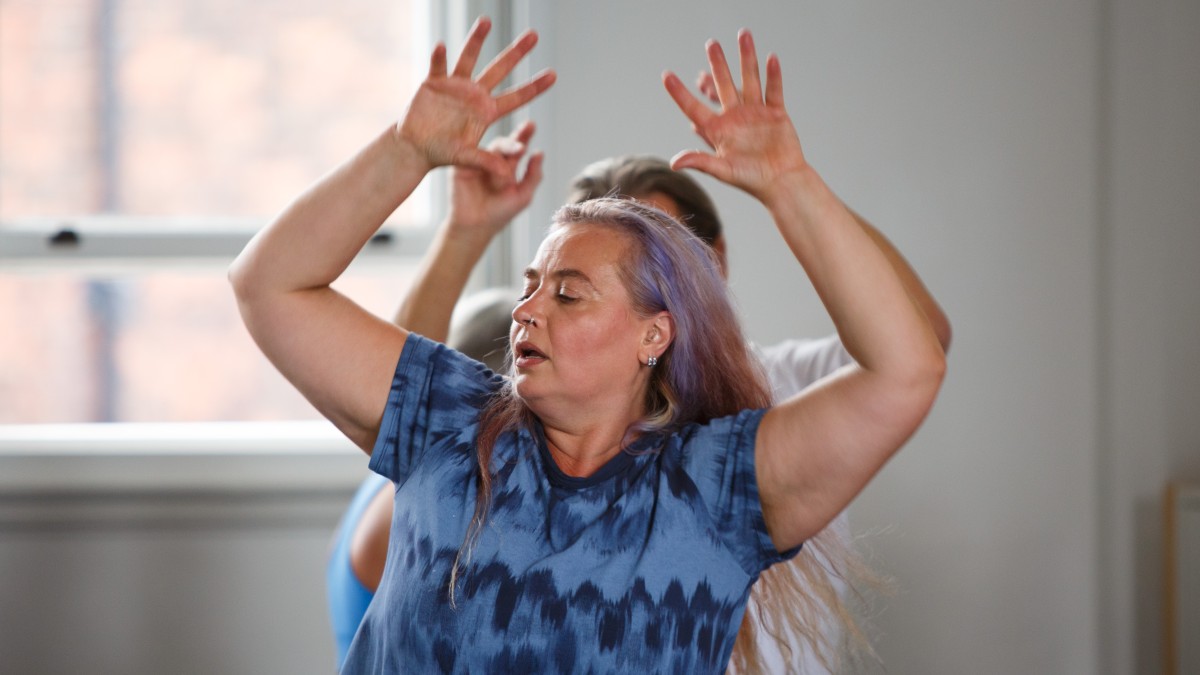 Meet one of the dancers performing with us in Traces Through Times next month, Tamara Walker
Originally from Bulgaria, Tamara, 52 now lives in Liverpool with her two sons. A counsellor and psychotherapist, reiki master and an artist, Tamara is passionate about recovery and supporting people's mental and physical health through creativity and holistic practices.
We caught up with her to find out a little bit more about her journey.
Can you tell us a bit about what growing up was like?
Born and raised in Bulgaria, I grew up in a dysfunctional and unstable family.  Deeply embedding traumatic experiences gave me the urge to discover ways for self-preservation. I found escape in the surrounding picturesque nature scenes, beautiful mountains and extraordinary art and culture. From an early age, my love and passion for the arts engaged me with dance, music, creative writing, painting, and drama. After graduating from Economics High School, I worked in the Bulgarian National Bank and local council. At very difficult times of economic crisis and reform, social change and struggle in Bulgaria, as well as an unsupportive family and confusion I left the country at the age of 18 and travelled through Europe. These were extremely difficult times for me.
You said you found dance at an early age, can you tell us a bit more about how you came to dance and what it means to you?
I have been told that I started dancing before I learned to walk. I have always been passionate about dance, as it moves something inside of me, something that would like to be awake and feel free. Throughout my childhood and teens, I have been part of different dance groups including jazz and contemporary ballet, but I have never been supported to pursue this professionally. Then life took over and it was no opportunities until I found Fallen Angels Dance Theatre. Now at this age, as a result of my deep complex traumatic experiences, traumas have manifested in my body physically and I live in pain daily.  I am always looking forward to my FADT days, as it's the only time when I dance that I am pain-free.
Would you be able to tell us about how performing with FADT aides your recovery journey?
I had a very traumatic childhood, upbringing, and multiple complex traumas throughout my life, which are deeply embedded within my body. It manifested itself as pains within my body over time and it has impacted my mental health. Around 30 years ago I used to drink often to mask the pain and hopelessness. I stopped that about 25 years ago, but there are triggers that impact my physical and mental health and I address these through dance, meditation, and creative expression, such as writing, painting and sculpture. It's like a cloud lifting and the sun shining again. Every part of performing with FADT is aiding my journey.
Who is your dance inspiration?
I always loved watching ballet as it fills my heart with joy and sorrow at the same time. My forever-favourite piece is the Dying Swan from Swan Lake. In the past year, I have been inspired by fellow FADT dancer, Arianna Sansone, an amazingly talented dancer full of grace. Dancing with FADT also inspires me further and encourages me to dance more.
And finally, what are you most looking forward to about performing in Traces Through Time? 
I love the whole piece! Performing with the other dancers creates a sense of connectivity which is healing in a way too. I know it is a performance, but for me is truly real and I can feel it in my body and the sense of freedom arising from within.