Transfiguration: Meet Dan Thorburn
Author: admin
Date: January 14th 2022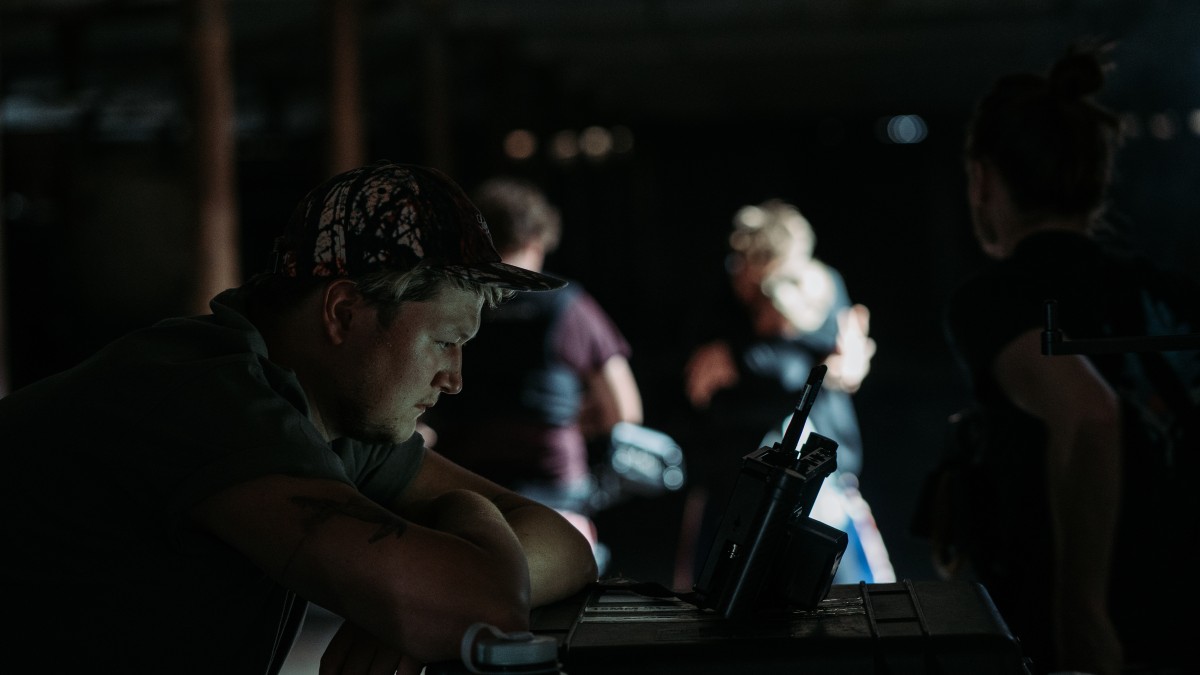 Over the next few weeks, we're going to be introducing you to the team who brought Transfiguration to the screen.
This week, we're chatting to Dan Thorburn, who has directed all three Transfiguration films.
Dan Thorburn is an award-winning writer and director from the North of England. Originally a painter, he studied at Central Saint Martins School of Art in London where he transitioned his practice into film.
He has directed a range of successful drama, gaining recognition from festivals world-wide and received consistent funding from the British Film Institute. His portfolio expands to contemporary dance film, music videos and commercials.
Hi Dan – can you tell us about your role in Transfiguration?
I'm the director and producer of all three films in the triptych – the Fallen Angels team have loads of experience in dance and theatre, but not in film or television, so I was brought in to link those two mediums. I also brought with me a brilliant crew, including our Director of Photography, Max Graham and steady-cam operator, Dan Carrier.
In order to get the dance and movement to work well on screen, I've also been working alongside FADT's Artistic Director Paul and theatre director John Young to streamline Eve Steele's narrative, making sure that our actors are comfortable and understand how we're pushing along that narrative.
I've also spent a lot of time working with our dancers Hannah and John on their characters – who are they are, their backgrounds – and working with them to explore their characters' feelings on screen.
You're best known for traditional narrative films, have you worked on any similar dance projects before?
Yes, I've worked on a dance film just before I started working with Fallen Angels. It was a series of music videos for Ed Cosens – who was in Reverend and the Makers – last October, and they all link together to make a short film.
But working with a subject matter like addiction, which is so important to Paul and the wider team, has been really interesting. Addiction and recovery is something which they know a lot more about than I do, so it's been refreshing to work together and find the right way to tell the story of Transfiguration.
Paul and the dancers have so much material and information, and it's my job to make sure all that comes together in a ten-minute film that fits together and is digestible for an audience.
From working with FADT on this project, why do you think their work is important?
The way that FADT is so devoted to working with people in recovery and helping people in recovery find a voice through a creative medium is super important.
There's a lot of different ways that people in recovery can express themselves – through painting, dance or writing – but I think dance is such an important way to express yourself because it's such a physical medium. It's a really healthy and powerful way to express yourself.
So, I think the work that they do is really smart and an interesting way to help people – and brilliant to bring people into their community of angels.
And finally, what do you hope audiences take away from Transfiguration?
Throughout the triptych of films, it would be really nice for people to understand the journey of someone in recovery. In the media, we tend to see a very stereotypical picture of 'the addict' who is struggling and then you see them going to a rehab centre or a meeting and that's it. You don't really see those years and years of recovery that it takes to clear that mindset.
I hope audiences take away that addiction can affect anyone. Anyone can be an addict at any point in their lives and it's a long, long road to recovery – it's not as easy as it's sometimes portrayed.
Transfiguration: I Fall will be available to watch for free from 20 January. Sign-up for our e-newsletter to get an alert when it goes live.