Transfiguration: Meet Kate Flatt OBE
Author: admin
Date: April 14th 2022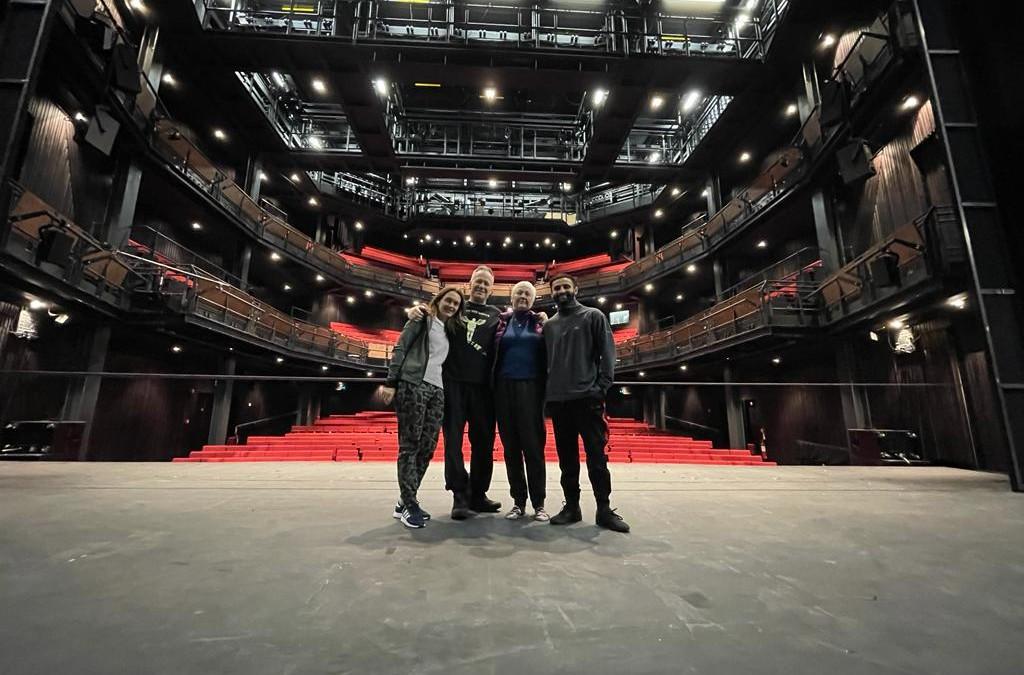 We were delighted to welcome Kate Flatt OBE to the Transfiguration team for I Need as the production's Dramaturg.
Kate is a choreographer, movement director, mentor and dance educator.
Her notable career highlights include the creation of the original musical staging for the RSC's Les Miserables (1985-2019) at the Barbican and worldwide. Her choreography for Turandot (1984) has been in 22 revivals, screened live cinemas worldwide and returns to Royal Opera in March 2023. The Dancing Room (1995) co-devised with Sally Jacobs, explored the rituals of life in a contemporary setting was shown on BBC2, directed by Simon Broughton and Undivided Loves based on Shakespeare's sonnets for Phoenix Dance Leeds in 2016. Further highlights are Dr Faustus with David Lan at the Young Vic, Three Sisters and Dream Play with Katie Mitchell at the National Theatre; Fiddler on the Roof at Sheffield Crucible and Savoy Theatre. Her work on feature films includes choreography for Chaplin, Restoration, and The Avengers.
Kate was awarded an OBE for services to Choreography in the 2020 New Year's Honours. She is a Rayne Choreographic Fellow since 2007; and a Churchill Fellow from 1971.
And we were honoured that she joined our team for I Need.
Hi Kate – can you tell us about your role in Transfiguration?
Paul and Claire asked me to work on I Need, the second film in the Transfiguration series. When I joined the team, they had already done a lot of work on it, so I came along for what we could call editing, but I was working as a Dramaturg with them.
Dramaturgy involves something very particular when you have dance and text – for example, if you've just got dance it's pure abstract, it might be poetic, it might be full of imagery, but you surmise the meaning from the dance itself.
But with I Need, there was already a very specific– and very good – text that Eve Steele had written around the movement and the question that I raised is how much of this do we need to amplify what's there in the movement, what do we need to feel or understand more of.
So, in those three days that I worked with them, it was an editing process before they started shooting. And it was joyful, I really loved it.
And you've worked with Fallen Angels before, haven't you?
Yes, we go a long way back. I worked with Paul about five years ago for project which he then took to the Royal Opera House. We worked in the studio together, where he was shaping and working on things, and I was posing a lot of provocative questions!
I've also given workshops for those in recovery in the Fallen Angels context, as well as working with Paul on pieces of choreography.
Why do you think the work they do is important?
I usually make movement work where stories are invented or told in either musical theatre, opera, dance or straight theatre. And you're working with scenarios where performers have to understand something about what's occurred to make the story happen.
But with Fallen Angels, you come into a recovery situation where everybody has a past and a present that they're already working with and sometimes battling with.
And I just found that absolutely fascinating and totally real. They weren't invented stories; they were real.
And when working with Fallen Angels on I Need, especially as the cast includes Angels in recovery, do you find you had to adjust the way you work?
It's more a question of not needlessly triggering buttons with people but accepting the status quo is that everybody has a story of their recovery, and so you enter into a situation of being inclusive and really open to the process.
I was brought up to believe that in organisations, the Caretaker is just as important as the Chief Executive, so that idea of a level playing field is something I also bring when working with Fallen Angels.
And I've learned that there's something joyful about the 'checking in' and 'checking out' which Fallen Angels use – where we ask people how they feel when they arrive in the studio and how they feel when they're leaving.
And I like the notion of the creative work belonging to us, but that we don't own it – and that it was very lovely to feel part of this small community of creative people.
What did you enjoy about the process of making Transfiguration?
Firstly, it was lovely being in the room with such beautiful performers, both Dom and Eve brought something very special to I Need.
I also enjoyed seeing Paul's enormous development and growth in how he handled the material, what he was gaining from the people in the room, and in how he included them in the creative process. It was very inclusive – and there was this sense that we were working on something together.
From my point of view as a Dramaturg, what I enjoyed was asking questions like 'do we need to say that as well as see this?'. The interface of the text and the dance is terribly important because we read or understand text with a very different part of your brain from the one that watches and feels what's happening in the dance.
So, what you want is the feeling to come across from the combination of both – but not for them to cancel each other out. And through the process, we found there were lovely things like natural pauses where they just needed to have text put into them, as if the thought had just followed on.
What do you hope audiences take away from I Need?
I want them to feel the complexity of the journey of someone in recovery and the compromises that have to be made in these really difficult situations – there's pain, success, failure. And it's a mother and son, so I hope people see that it's a very deep, complicated bond.
It was a privilege to work on it