What is Recovery? Reflections from our panel discussion
Author: admin
Date: October 3rd 2022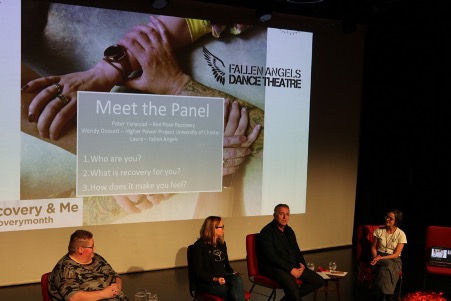 During our Recovery and Me Social we started the event with a panel discussion. The panel was made up of people in recovery from Fallen Angels, Academia and Addiction and Recovery charitable sector.
This discussion was so rich in content that we thought we would share some insights: We started by posing the question to our panel: Who are you? What does recovery mean to you? And how does it make you feel?
Dr Wendy Dossett – Higher Power Project at the University of Chester, a recovery activist and academic who studies that explore spirituality in recovery (you can find out more about the Higher Power Project here).
Wendy argued that when we have a strong personal experience of recovery, it can sometimes make us feel that our way is 'the only way'. This can in turn lead to us failing to understand each other in the recovery community. She said that this event was an opportunity to listen to and celebrate each other's experience of recovery, and to notice what we had in common.
Wendy highlighted a staggering statistic: 79.4% of people in recovery volunteer* compared to 42% of the general population, this was taken from David Best's Life in Recovery Survey.
For those who don't have knowledge of pathways to recovery, one of the most powerful actions that a person in recovery can take to maintain recovery is to give back, be it within the recovery community or within the wider public.
Wendy also spoke about the importance of our stories for building community. She paid tribute to the work of Fallen Angels Dance Theatre and how we tell our stories in movement. She explained that as a frequent audience member when the Angels perform, she was always deeply moved by these stories.
We then heard from Peter Yarwood – Founder of Red Rose Recovery. Peter plays a key role as one of the founders and senior leaders in Red Rose Recovery, a Lancashire-based multi-award-winning peer-led service and charity.
Pete offered some powerful lived experiences of the adversity that he had lived through during his addiction and recovery journey, which were exacerbated by the criminal justice system that led him to recovery and helping others to break the cycle through his work with people in Lancashire. Pete talked about the challenges that came through recovery and treatment one example being unregulated supported accommodation and underfunding in localised treatment solutions.  
He referred to research he had read about into rats where scientists discovered that changes in gut bacteria led to changes in their DNA pathway, ultimately leading to the rats putting themselves in danger. He explained that it made him think that the body and mind connection is so powerful that perhaps by changing gut and physical health then this could influence or change our minds to have a positive effect for people in recovery, he referenced the movement activity conducted through Fallen Angels in creating positive change for people.
It was fantastic to have Laura Ferris, a Supporting Angel volunteer from Fallen Angels Dance Theatre on the panel, who brought and shared her experiences through the discussions. She referenced in her recovery channelling positive addictions to love, compassion, acceptance, understanding and freedom. Agreeing with Pete's acknowledgement that recovery works if we stick together as a community and change stigmatism.
During the panel discussion, the audience entered their thoughts through Mentimeter. See images at the bottom of the blog.
We closed the session reflecting on the Recovery Principles that were developed through UKRF with the Recovery Community as a response to the 2010 UK Drug policy:
1. Recovery lies within individuals, families and communities and is self-directed and empowering.
2. Recovery lies within our 'connectedness' to others, is holistic and has many cultural dimensions.
3. Recovery is supported by peers, families and allies within communities.
4. Recovery involves the personal, cultural and structural recognition of the need for participative change, transformation and the building of recovery capital.
5. Recovery involves a continual process of change and self-redefinition for individuals, families, organisations and communities.
6. Recovery challenges all discrimination and transcends shame and stigma.
7. Recovery emerges from hope, gratitude, love and gifts to others.
8. There are many pathways to Recovery and no individual, community or organisation has the right to claim ownership of the 'right pathway.'
9. Recovery exists on a continuum of improved health and well-being.
10. Recovery transcends, whilst embracing, a wide variety of approaches and does not seek to be prescriptive.
11. Honesty, self-awareness and openness lie at the heart of Recovery.
12. Recovery is a reality and contagious




Image credit: Rachel Turnock